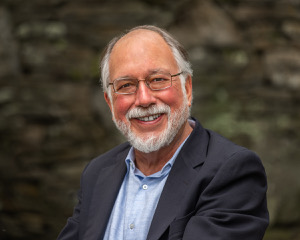 A word from the Editor-in-Chief
Please join me in giving a BIG welcome to Michael Apstein, one of the most passionate and nicest people in wine, not to mention erudite. I do not use the word "erudite" lightly: believe me, no other word could be more apt (in fact, in this case, you might even say "Apst" ): for Apstein, Michael, is an Assistant Professor of Medicine at Harvard Medical School and one heck of a good doctor and teacher (trust me, I know); but one with over 300 wine columns under his belt for the Boston Globe daily. His first of what I hope will be an interminable of pieces at TerroirSense offers a glimpse into his writing style: clean, scientific, and to the point (there's the doctor), very easy to understand and learn from (there's the teacher) and just plain fun to read and enjoyable (there's the good writer). I have always been fascinated by how well California wine ages, a trait that I do not believe goes recognized or gets appreciated as much as perhaps it should. Please do tell us what your thoughts are on the subject and Michael will be happy to respond, and I might chime in too, as after all all us wine geeks love a lively wine discussion. And make sure to also follow Michael if you like on Twitter and Instagram @MichaelApstein. Welcome Michael!
– Ian D'Agata, TerroirSense Wine Review Editor-in-Chief
Ridge Vineyards 1994 Monte Bello Santa Cruz Mountains         96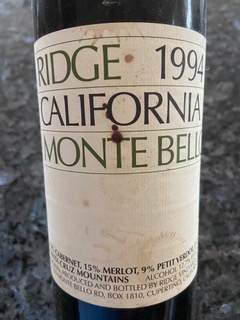 Without question, Ridge Vineyards is among the best producers in California. Their Monte Bello, their single vineyard Bordeaux-blend first produced with the 1962 vintage, is one of California's greatest wines. At twenty-six years of age, the 1994 Monte Bello demonstrates the stature of the wines from this vineyard.
The Monte Bello vineyard is comprised of four ranches, Perrone, Torre, Rousten, and Klein, lying between 510-820 meters above sea level (or 1700-2700 feet) in the Santa Cruz Mountains, south of San Francisco. Both its elevation and proximity—just twenty-four kilometers or fifteen miles—to the Pacific Ocean explains its cool microclimate, which at first glance might be less than ideal for red Bordeaux varieties. But there's sufficient heat during the day to achieve ripeness and the cool temperatures at night preserve the grapes'—and hence, the wine's—acidity. The clay atop limestone soil, which is very different from the soils of other sites well-known for Cabernet Sauvignon in California, such as Napa and Sonoma Valleys, contributes to the wine's uniqueness.
Ridge produces two wines from this property, an Estate Cabernet, which is more approachable in its youth, and Monte Bello, which Paul Draper, Ridge's longtime winemaker who retired in 2006, advises needs a decade of age to show its complexity.
In 1994, a cool wet spring delayed set and, as a result, harvest, which started with Merlot on October 1, was late by today's standards. The remaining varieties were picked between October 18 and 28. For comparison, the grapes for the 2018 Monte Bello were harvested roughly a month earlier.
The winemaking is non-interventional or, as Draper refers to it, "pre-industrial." They use native yeasts and allow malolactic fermentation to proceed naturally. The wine is aged in oak barrels, mostly French, but with a little American oak as well. The only intervention is a strict selection of grapes and wines that go into the final blend of Monte Bello.
Always a Cabernet Sauvignon-heavy blend, the 1994 Monte Bello was the first vintage in which it comprised less than 75% of the blend and another three grapes—Merlot (15%), Petit Verdot (9%) and Cabernet Franc—were included.  At 26 years of age, it remains youthful and fresh.  Flavors—initially plummy—evolve as it sits in the glass. A gorgeous olive-tinged savory aspect emerges. During the meal over a couple of hours, each sip brings new delight. This wine is not fading. For all its muscular power, there's not a trace of heaviness. Indeed, its elegance is startling. The suave tannins impart a silky texture. Weighing in at a modest 12.7% stated-alcohol reminds us that you do not need super ripe grapes to make a super wine. Drinking window: now-2031.